Starting out the Month of September with a trip to Scotland.
The Loch Ness "monster" -- affectionately known as "Nessie" -- is an alleged plesiosaur-like creature living in Loch Ness, a long, deep lake near Inverness, Scotland. Many sightings of the "monster" have been recorded, going back at least as far as St. Columba, the Irish monk who converted most of Scotland to Christianity in the 6th century.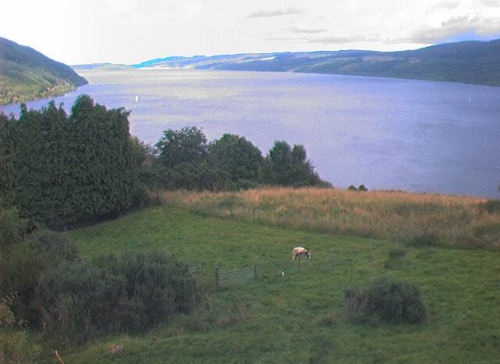 September Trip Notes
Labor Day Trip to Scotland:
We added a couple of extra days in order to travel around the Western side of Scotland – our last trip having been to the Eastern area in 1973. We didn't want to rush into anything. So, while Jim meticulously planned our route, stops, castles and other places of interest, (you know how he is!); I booked the flights into Prestwick Scotland, ordered the rental car, booked our first and last night's lodgings and ordered the tour books to take along. Our first night in the B&B was great and our host recommended several things to do along the route when we left, heavily emphasizing a visit to the Isle of Skye. However, Jim had not planned that in our route so we took off to see our first castle on the way. Not long after we stopped at a tourist information center for more literature, talked to the guide who also suggested a village by Loch Lomond, (on our route), and again he too recommended the Isle of Skye. So we said okay, he booked us a B&B on the Island and off we went. We loved it so much we stayed several days, when it was sunny the colors were incredible – but when it was overcast and cloudy – it was melodramatic and brooding with the mountains, sea, rivers and coastline.

On our first night we had a huge fresh seafood platter of locally caught oysters, shrimp, grilled slabs of salmon and chunks of smoked salmon that were as thick as a slice of bread. Heavenly. We reluctantly left the Isle of Skye and then just wandered all over more of the Highlands on our way to Glasgow.

We stopped at Stirling Castle which was also very interesting, especially due to the humor or the tour guide. This was the home of the Scottish kings – beginning with Robert Bruce I and ended when James became king of Scotland and England, and moved his Royal Court to London. Glasgow was a place we had not visited before, because in the Seventies it was a ship-building city. Then, it was dirty, scruffy, not very interesting, (except for the Rennie MacIntosh buildings), and unexciting. Can you imagine our surprise, when we wandered around town to find that since the ship building had gone away, Glasgow was still a dirty, scruffy, and unexciting city. Although we were disappointed as it wasted our time when there were so many other wonderful places we co9uld have gone to visit, we had a wonderful Chinese meal of Crispy Duck, a dish that so far, we have only found in the UK. That reason is what we hope will explain why there are no pictures at all! Unusual for us, since we usually find something to photograph.

Another good thing about the trip was although several times it threatened to rain, we had none at all. However it did go from overcast to cloudy all the time, often within the same hour! Our umbrellas were not needed for this trip.

An Afternoon in Darmstadt:

We had heard and read about an exhibition of some fossils that had been discovered nearby in what had been planned to be a garbage dump, so off we went to investigate. It was quite fascinating to see as they had been remarkably well preserved – showing fur, reptile scales and many fine bones of these small creatures. We spent over 5 hours in the museum itself, wandering through the exhibits of animals and flora, old German memorabilia, porcelain and the special fossil exhibits. Then we wandered around in the Old City, admiring the buildings statues and squares. Darmstadt also commemorated September 11th, but from 1944 when much of the city had been leveled during bombing raids. There was a small outdoor display with photographs and explanations. What a horrible coincidence.

We ended the afternoon at an outdoor café having ice-cream concoctions and watching the passing people – also a favorite pastime.